Reflections on my trip to Namibia
By Jovan Tomić
I woke up. Land could've finally be seen from the small cabin window. I was still struggling with grasping the thought of me being in Africa. The African soil, though, looked almost exactly as I would've imagined it. There were only so many short acacia trees, and a few low bushes here and there. A day-long trip was exhausting, and I was craving for some rest. When I landed, the circumstances made me feel as if I had just taken control over a different person. I was so pleased to see my uncle and to rekindle some old, long-distance friendships. We quickly started talking about anything and everything, but it was not long before tiredness kicked in.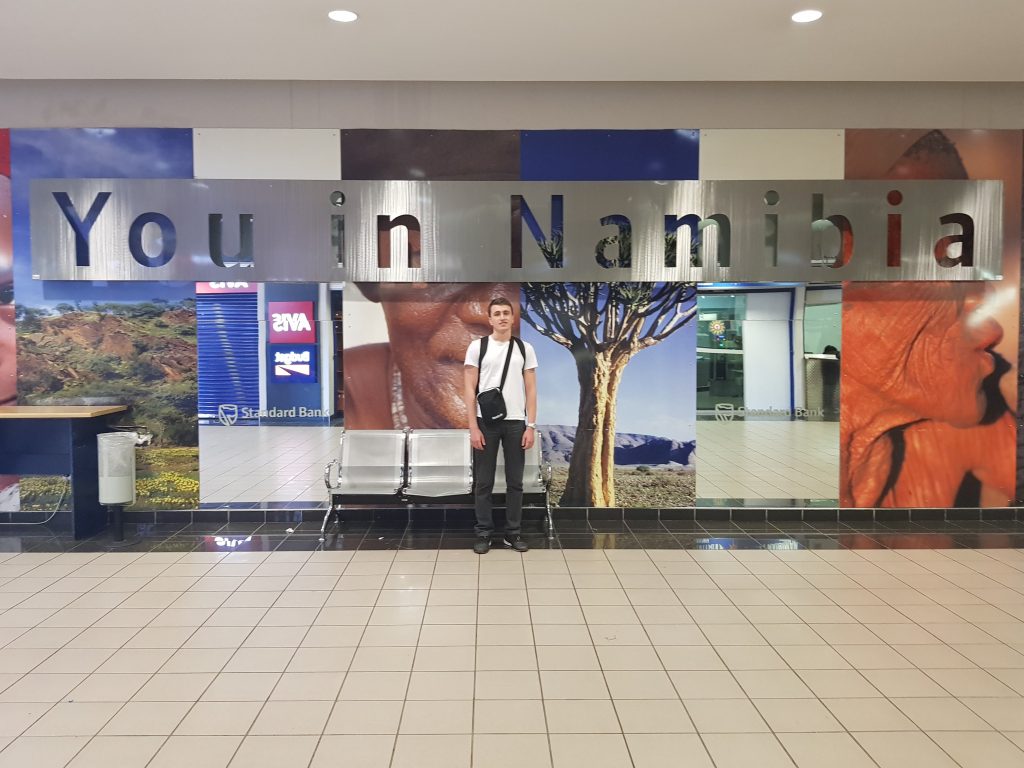 The following couple of days mainly revolved around me familiarising myself with the picturesque town of Windhoek. I was getting to know what my job at P.A.Y. consisted of. The very first day (27th of March) wasn't very demanding; I just had to get to know people, and to observe. 'My job here is plain and simple. Cool.' I thought. Oh boy, was I wrong! On my insistence, I got the position of a mathematics instructor, and the grades that I was teaching were mainly grades seven to nine. I thought that it would be the best for both parties if I officially helped them only with mathematics, as it was the easiest way to obviate the language barrier. I also provided assistance with any other subject that I could realistically handle. As the time went by, I realised what the core problems were, and I was constantly looking for the most effective ways to overcome them. In my opinion, the main issues were the 'gaps' in knowledge that P.A.Y learners were facing. I believe that it was due to the inefficient public schooling, but I also think that the learners were not properly introduced to the concept of studying and its importance. From there on, my main goal was to try and fill as many of those 'holes' as possible. Some of the topics that I went over were: algebra, basic mathematical operations and functions, basic economics and so forth. By evaluating their knowledge at the end of my stay, I was pleased to see how some of the students made progress. I was also slightly disappointed that I couldn't have an impact on all of them, but I still think that any progress meant that my stay there was meaningful. I must say that I was positively surprised to see how hospitable everyone at P.A.Y. was. Both children and the personnel accepted me as if I was one of their own. I also learned a lot from my work there. It helped me perceive the problems communities such as this one were facing, and it made me appreciate my opportunities even more. I've made a lot of friends of all ages, and I'm keeping in touch with some of them to this day.
---
Teaching math class at P.A.Y.

Individual tutoring
Apart from volunteering, I was also engaged in various pastimes. The first weekend (31st March – 1st April) consisted of going to the coast. We were staying in a hotel in Swakopmund. Swakopmund is a phenomenal place. I'm not sure why, but the streets of 'Swakop' (as it is informally known) looked like a lite version of Ocean Drive to me. It probably has something to do with numerous palm trees, which I'm a big fan of. However, I wasn't very fond of the Swakop's microclimate. It was cold and the sunlight was scarce. There's a popular phrase that I've encountered there; 'The place where the desert meets the ocean'. It sounds good, doesn't it? Well, the sight is even more spectacular. The only thing separating the old Namib desert from the epic Atlantic ocean is a narrow road. One particular activity that I often times think about is the quad bike riding on the sand dunes. The adrenaline-filled, hour-long ride really does put things into perspective. One wrong turn and you might find yourself lost for good. It also helps you contemplate the desert. Walking beside the ocean also stimulated many deep thoughts. Powerful waves were crashing into the coast and the intense scent of the sea salt could be felt. Although both of these might have seemed ordinary, they were new to me, and that made them even more attractive. Unfortunately, we weren't able to get to the famous Skeletal Coast, which is said to be quite a sight with all the bones lying around. I also would've enjoyed visiting Lüderitz, but there was just not enough time.
World's largest quartz

Kristall Galerie

Dune 7, Walvis Bay
The next weekend (7th March – 9th March) was, arguably, even more contentful. Our destination was the well-known national park, Etosha. Luck wasn't on our side this time around as it was raining, and that meant that most of the waterholes rendered useless. We hoped to come across some of the more famous game, but it just wasn't meant to be. We did see a lot of different species of antelopes, as well as a few hyenas and ostriches, and very many zebras. Before we arrived to Etosha, we had also paid a visit to a crocodile ranch, and that stop was just as exciting. We've seen a number of crocodiles in there, and one can even interact with a baby crocodile!
As far as Windhoek is concerned, I'm still impressed. This town is like a dream location. It's small enough for everything to be nearby, and big enough to include everything one would ask for. It's culturally rich enough, and it contains both western (I would dare to say colonial) and domestic vibes. I've also found my roaming around Katutura to be valuable, as it's made me understand how it feels to be racially unequal. The food tastes great, both in Katutura and in the city. There are plenty of locations where one could enjoy themselves. I've also acquired an invaluable experience in one of the private schools I've ventured into.
To conclude, I don't think that words can truly describe what I've experienced while being in Namibia. I'm extremely grateful to have been able to visit this magnificent country, and I'm sure that I'll be back sometime soon. I've met plenty of people, and I've acquired experience that is unique, to say the least. I'd recommend visiting Namibia to everyone.
---